KNOT VI.

HER RADIANCY.

"One piecee thing that my have got,
Maskee[A] that thing my no can do.
You talkee you no sabey what?
Bamboo."


They landed, and were at once conducted to the Palace. About half way they were met by the Governor, who welcomed them in English—a great relief to our travellers, whose guide could speak nothing but Kgovjnian.

"I don't half like the way they grin at us as we go by!" the old man whispered to his son. "And why do they say 'Bamboo!' so often?"

"It alludes to a local custom," replied the Governor, who had overheard the question. "Such persons as happen in any way to displease Her Radiancy are usually beaten with rods."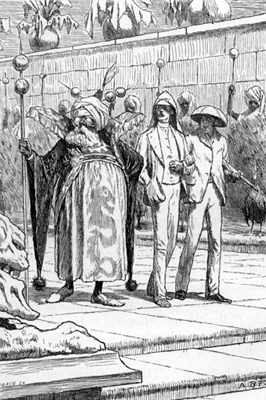 "WHY DO THEY SAY 'BAMBOO!' SO OFTEN?"
The old man shuddered. "A most objectional local custom!" he remarked with strong emphasis. "I wish we had never landed! Did you notice that black fellow, Norman, opening his great mouth at us? I verily believe he would like to eat us!"
Norman appealed to the Governor, who was walking at his other side. "Do they often eat distinguished strangers here?" he said, in as indifferent a tone as he could assume.
"Not often—not ever!" was the welcome reply. "They are not good for it. Pigs we eat, for they are fat. This old man is thin."
"And thankful to be so!" muttered the elder traveller. "Beaten we shall be without a doubt. It's a comfort to know it won't be Beaten without the B! My dear boy, just look at the peacocks!"
They were now walking between two unbroken lines of those gorgeous birds, each held in check, by means of a golden collar and chain, by a black slave, who stood well behind, so as not to interrupt the view of the glittering tail, with its network of rustling feathers and its hundred eyes.
The Governor smiled proudly. "In your honour," he said, "Her Radiancy has ordered up ten thousand additional peacocks. She will, no doubt, decorate you, before you go, with the usual Star and Feathers."
"It'll be Star without the S!" faltered one of his hearers.
"Come, come! Don't lose heart!" said the other. "All this is full of charm for me."
"You are young, Norman," sighed his father; "young and light-hearted. For me, it is Charm without the C."
"The old one is sad," the Governor remarked with some anxiety. "He has, without doubt, effected some fearful crime?"
"But I haven't!" the poor old gentleman hastily exclaimed. "Tell him I haven't, Norman!"
"He has not, as yet," Norman gently explained. And the Governor repeated, in a satisfied tone, "Not as yet."
"Yours is a wondrous country!" the Governor resumed, after a pause. "Now here is a letter from a friend of mine, a merchant, in London. He and his brother went there a year ago, with a thousand pounds apiece; and on New-Year's-day they had sixty thousand pounds between them!"
"How did they do it?" Norman eagerly exclaimed. Even the elder traveller looked excited.
The Governor handed him the open letter. "Anybody can do it, when once they know how," so ran this oracular document. "We borrowed nought: we stole nought. We began the year with only a thousand pounds apiece: and last New-Year's-day we had sixty thousand pounds between us—sixty thousand golden sovereigns!"
Norman looked grave and thoughtful as he handed back the letter. His father hazarded one guess. "Was it by gambling?"
"A Kgovjnian never gambles," said the Governor gravely, as he ushered them through the palace gates. They followed him in silence down a long passage, and soon found themselves in a lofty hall, lined entirely with peacocks' feathers. In the centre was a pile of crimson cushions, which almost concealed the figure of Her Radiancy—a plump little damsel, in a robe of green satin dotted with silver stars, whose pale round face lit up for a moment with a half-smile as the travellers bowed before her, and then relapsed into the exact expression of a wax doll, while she languidly murmured a word or two in the Kgovjnian dialect.
The Governor interpreted. "Her Radiancy welcomes you. She notes the Impenetrable Placidity of the old one, and the Imperceptible Acuteness of the youth."
Here the little potentate clapped her hands, and a troop of slaves instantly appeared, carrying trays of coffee and sweetmeats, which they offered to the guests, who had, at a signal from the Governor, seated themselves on the carpet.
"Sugar-plums!" muttered the old man. "One might as well be at a confectioner's! Ask for a penny bun, Norman!"
"Not so loud!" his son whispered. "Say something complimentary!" For the Governor was evidently expecting a speech.
"We thank Her Exalted Potency," the old man timidly began. "We bask in the light of her smile, which——"
"The words of old men are weak!" the Governor interrupted angrily. "Let the youth speak!"
"Tell her," cried Norman, in a wild burst of eloquence, "that, like two grasshoppers in a volcano, we are shrivelled up in the presence of Her Spangled Vehemence!"
"It is well," said the Governor, and translated this into Kgovjnian. "I am now to tell you," he proceeded, "what Her Radiancy requires of you before you go. The yearly competition for the post of Imperial Scarf-maker is just ended; you are the judges. You will take account of the rate of work, the lightness of the scarves, and their warmth. Usually the competitors differ in one point only. Thus, last year, Fifi and Gogo made the same number of scarves in the trial-week, and they were equally light; but Fifi's were twice as warm as Gogo's and she was pronounced twice as good. But this year, woe is me, who can judge it? Three competitors are here, and they differ in all points! While you settle their claims, you shall be lodged, Her Radiancy bids me say, free of expense—in the best dungeon, and abundantly fed on the best bread and water."
The old man groaned. "All is lost!" he wildly exclaimed. But Norman heeded him not: he had taken out his note-book, and was calmly jotting down the particulars.
"Three they be," the Governor proceeded, "Lolo, Mimi, and Zuzu. Lolo makes 5 scarves while Mimi makes 2; but Zuzu makes 4 while Lolo makes 3! Again, so fairylike is Zuzu's handiwork, 5 of her scarves weigh no more than one of Lolo's; yet Mimi's is lighter still—5 of hers will but balance 3 of Zuzu's! And for warmth one of Mimi's is equal to 4 of Zuzu's; yet one of Lolo's is as warm as 3 of Mimi's!"
Here the little lady once more clapped her hands.
"It is our signal of dismissal!" the Governor hastily said. "Pay Her Radiancy your farewell compliments—and walk out backwards."
The walking part was all the elder tourist could manage. Norman simply said "Tell Her Radiancy we are transfixed by the spectacle of Her Serene Brilliance, and bid an agonized farewell to her Condensed Milkiness!"
"Her Radiancy is pleased," the Governor reported, after duly translating this. "She casts on you a glance from Her Imperial Eyes, and is confident that you will catch it!"
"That I warrant we shall!" the elder traveller moaned to himself distractedly.
Once more they bowed low, and then followed the Governor down a winding staircase to the Imperial Dungeon, which they found to be lined with coloured marble, lighted from the roof, and splendidly though not luxuriously furnished with a bench of polished malachite. "I trust you will not delay the calculation," the Governor said, ushering them in with much ceremony. "I have known great inconvenience—great and serious inconvenience—result to those unhappy ones who have delayed to execute the commands of Her Radiancy! And on this occasion she is resolute: she says the thing must and shall be done: and she has ordered up ten thousand additional bamboos!" With these words he left them, and they heard him lock and bar the door on the outside.
"I told you how it would end!" moaned the elder traveller, wringing his hands, and quite forgetting in his anguish that he had himself proposed the expedition, and had never predicted anything of the sort. "Oh that we were well out of this miserable business!"
"Courage!" cried the younger cheerily. "Hæc olim meminisse juvabit! The end of all this will be glory!"
"Glory without the L!" was all the poor old man could say, as he rocked himself to and fro on the malachite bench. "Glory without the L!"